Closing Note on Transition Councils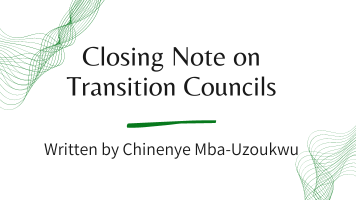 In a democracy, the peaceful transfer of power from one administration to the next is a fundamental aspect of maintaining stability and ensuring the continuity of governance. In Nigeria, transition council members are usually handpicked by close aides to elected president and state governors. The transition council members  play a pivotal role in  developing a framework for liaison with the out-going administration with the aim of enumerating the most important or most urgent economic and development  issues confronting the in-coming government.
In this article, Chinenye Mba-Uzoukwu, who was nominated to serve in the transition councils of Anambra state (Soludo adminstration), Abia state (Otti administration),  and Lagos state (Sanwo-olu administration), delves into personal and practical learnings from his experience with state transition councils.
---
Transition Councils work under tremendous pressure over six weeks on the average to try and develop a plan at the same time as they build working relationships with hitherto mostly strangers. It is a small miracle that they produce these valuable reports, and a testament to the quality of the people assembled for the task.
Having had the opportunity to work on developing manifestos and, contributing to three transition councils recently, my key takeouts are the glaring absence of data to drive problem identification, scoping and formulation of solutions; and the challenge of strong analytical heuristic frameworks to guide the development of a plan.
To differing degrees based on the competencies of the transition council's leadership, what we end up with is a sectoral list of ideas and initiatives, well thought out and well-intentioned, but not necessarily a plan of action. In most states, despite the best efforts of the transition council leaders and supporting consultants, the gaps and time constraints made it near impossible to produce a comprehensive, internally self-reinforcing plan. The Governor gets a what-to-do but not so much of how-to-do-it and in what order.
To my mind, governance is about a theory of change: here is where we are going and if we do this and that in this order and vector, we will achieve change. Because of its sweep, governance requires a coordination across all sectors and a prioritisation index to allocate its resources.
The detailed submissions of the transition councils are loaded with ideas but still siloed – how does Sports relate to Education, Education to Industry, Industry to Infrastructure,…? Which particular set of ideas are a phase one? What happens when a linchpin idea is not executed ahead of phase two? This is actually what should translate to a budget, the annual plan of execution that drives the theory of change.
The Governor also needs to be able to constantly monitor, gather data, analyse and be agile in making decisions to keep the ship headed in the right direction and at the right pace. By design, making the decision to be data-driven means that every programme answers that question first: what are we measuring and how are we measuring it.
Do you measure the number of PHCs or the number of patients who walk through the doors?
In the US, the Office of Management and Budget (OMB) assists the President in overseeing the preparation of the federal budget and evaluates the effectiveness of agency programs, policies, and procedures, and works to make sure that agency reports, rules, testimony, and proposed legislation are consistent with the President's budget and with administration policies.
Ideally, there should be an Office of Management and Budget (OMB) and a Project Management Office bin every state, both reporting to the Governor on the execution of the components of his theory of change. As the decision-makers, the Governor and his team require data and insights, not anecdotes.
They should have performance dashboards that drive SEC meetings, and cascade into the civil service. The heuristic framework that anchors the theory of change will serve as a True North for the Governor. He will always be able to know what part of the vast engine of government is stalling or misfiring, and how it impacts on the overall plan.
Transition Councils happily also help to gather data, draw inputs from the street and in canvassing the views of sub-committee assist in generating a 360° view of Governance. I think Gov. Otti is on the right track in converting his Transition Council into an Advisory Committee. This is, in my humble opinion,  how the supportive institutions of governance are entrenched.
My experience with the Technical Working Groups for Nigeria's Vision 2050 and  Medium Term Expenditure Framework (MTEF) were no different. What this points to is an opportunity to truly reinvent governance around data-driven, performance-oriented execution. It can begin in Ala Igbo.
---
The views, thoughts, and opinions published on the Society of Igbo Professionals Blog belongs solely to the author and are not necessarily the views of Society of Igbo Professionals or its editors.
---
About Author:
Chinenye Mba-Uzoukwu has almost 30 years of an eclectic career spanning marketing communications, digital design, strategy, software development and digital transformation consulting in private and public sectors. A recognized policy analyst thought leader and technology solutions architect, he has a unique blend of strategic thinking, technical skills and competencies in multi-country people management, communications and cross-group collaboration. He has been lead in solutions architecting and delivery of over 70 enterprise software integration and digital transformation projects in Government, Financial Services, Manufacturing, Retail and Telecommunications, becoming the leading exponent of Enterprise Collaboration/Information Worker solutions in West Africa.
His public sector experience is derived from service in the area of government's reforms across its ministries, parastatals and agencies engaged in over 25 Digital Transformation projects since 1997. A Fellow and former Deputy President of Nigeria Computer Society (NCS), a Council Member of Computer Professional Registration Council of Nigeria (CPN), and at various times General Secretary , 2nd Vice-President and President, Institute of Software Practitioners of Nigeria (ISPON), he nominated as Member, Education & Manpower Thematic WorkGroup of FG Agenda 2050, Anambra State Transition 2022 Council, Abia State 2023 Transition Council and a consultant to the Lagos State 2019 Transition Council. . He also served as a Member, Steering Committee of the NESG Digital Economy Policy Commission (DEPC) and Chairman, Central Organising Committee of the 28th Nigeria Economic Summit.