You're invited to Ikenga Day Festival!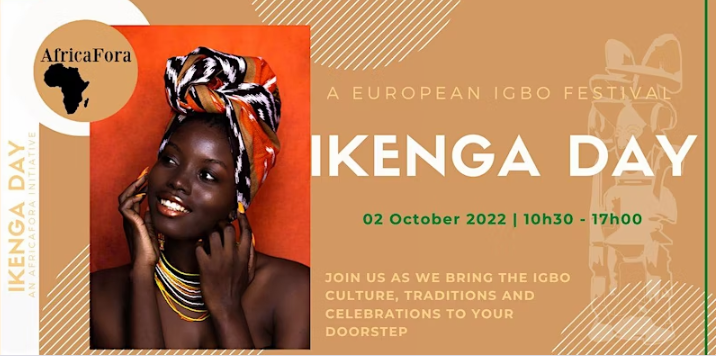 AfricaFora is proud to present the latest of its series of Black and African celebrations: Ikenga Day – A European Igbo Festival.
Ikenga Day is a platform for Ndigbo, lgbo descendants and their friends to meet annually to promote the preservation of Igbo culture and traditions as well as highlight Ndigbo dynamism and fierce entrepreneurial spirit.
Date: Sunday 2nd Oct 2022
Time: 10:30 CEST
Location: 
Centre Polyvalent Abbe Glatz
136 Rue de l'Abbé Jean Glatz
92270 Bois-ColombesFrance
Activities of the day :
Conferences on various topics
Prose reading
Masquerades (traditional performance with masks)
Traditional flute perfomance (Igbu Oja)
Film in Igbo
Tickets guarantee access to all activities. Tickets available for sale for adults, all under 18 can access event ticket free (proof required).
Register Here: https://www.eventbrite.co.uk/e/ikenga-day-tickets-409632671347
For Promotion Opportunities
Advertisement Pages on Programme
Front and Back pages  – 100€
Full Inside Page – 70€
Half Inside Page – 50€
Information to Provide
Personal and Company Name
Industry and Description of your Business
Brief Backstory (Why you started, motivation, inspiration, etc.)
Social Media Handles and/or Website
For enquiries on sponsorship, visit www.africafora.com or contact +33649953880