IIWG 4: Sports as a Business – The Case for Investment in Ala Igbo.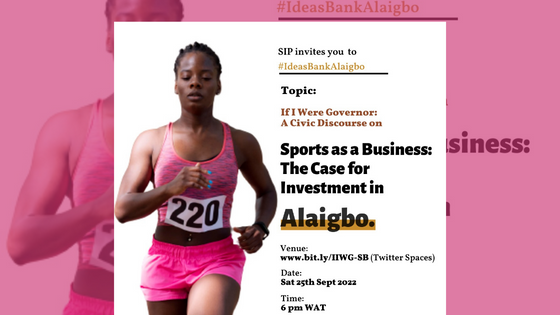 You are invited to our 4th edition of If I Were Governor Series
Programme Title: Ideas Bank Alaigbo
Topic: Sports as a Business – The Case for Investment in ala Igbo.
Facilitator: Society of Igbo Professionals (SIP)
Platform: SIP Twitter Spaces
Date: Saturday 3rd September   2022
Time: 6pm WAT
About Topic:
Sports is an important enabler of sustainable development because in addition to  being  a vehicle for human capital development, it also  provides a basis for social identity  and promotes social organisation.
According to the United Nations (2003), sport is all forms of physical activity that contribute to physical fitness, mental well-being and social interaction. Sports is more than a recreational activity which brings people together. It is a  cultural product which can be designed to align with the nation's development objectives. Countries that have successfully harnessed the social and community development objectives of sports were successful because they recognised and tapped into its commercial and economic opportunities.
Countries such as Jamaica, Great Britain, United Arab Emirates and the United States of America have successfully fused sports into their national objectives, economic planning and education policies. They have used their comparative advantage in sports management to support economic and social development through sports and sport related investment.
An evaluation of the Nigerian sports sector reveals the need to re-align the cross cutting, cross sectoral contributions into an industry  in line with workable policies and structures at the state and federal levels, that would attract  and  create increased opportunities for economic development, job and wealth creation and growth.
The universal popularity of sport and the physical, social and economic developmental benefits derived from it, make it an ideal funnel for investment if treated as a business. Commercial activities such as venues and facilities development, talent management, event management, tourism, media and broadcasting,  fashion, merchandising, hospitality, real estate etc., are options open for exploration in the industry.
In conclusion, how are ala Igbo states actively creating opportunities for sports to thrive as vehicles of investment that will support socio-economic growth?
If I Were Governor: Sports as a Business – The Case for Investment in ala Igbo, will focus on:
assessing steps taken by state governors in boosting sports;
evaluating policies and best practices that drive and support investment in sport by public, private and social enterprise sectors;
the relationship between education and sports;
challenges and opportunities for the sports industry;
Speaker: Nkechi Obi – Chief Executive Officer, SportNigeria
Attendees profile: Athletes, Sports Management Agencies and Companies, Sports Advocates/Activists, SIP Members, Civil Society Organisations, Media, Ndi Igbo, and Concerned Citizens of Nigeria.
To participate in the online event on Twitter, click on the link below to save event notification on your calendar: https://bit.ly/IIWG-SB
Hash Tags: #IdeasBankAlaIgbo, #OnuNdiBanyi, #OhaNweEze, #AlaIgboAccountability