Grooming Storytellers through Flowing Feathers Tourism Children  Writing Competition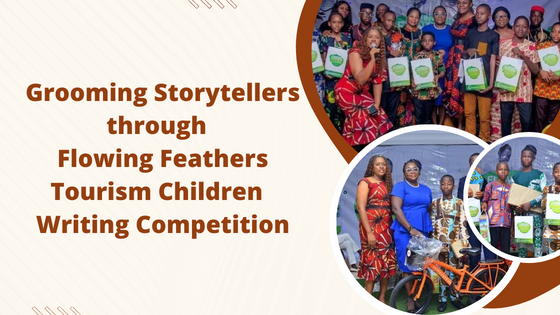 30th July 2022 was another history making day for Jands Coy. Ala Igbo witnessed the emergence of exceptional children storytellers from the travel and tourism company's Flowing Feathers Tourism Children  Writing Competition.
 The atmosphere in the hall on that day was one of  joy  as children were being given such great opportunity and platform to express themselves. A lot was learnt  from the epoch making event which allowed children to be celebrated for their creative writing skills, talents and  ingenuity.
Out of 465 participants, the judges had the daunting but rewarding task of choosing the top 3 finalists from each of the Junior and Senior Category.  Indeed it was not an easy task.  After after the thorough defense the finalists indeed proved themselves that they were worthy of their positions and prizes.
The testimonies and roles of the parents of these children winners bear witness to the fact that success is not fluke. Some of the children were already being groomed and prepared unknowingly for a day like this when knowledge and creativity would stand them out. They proved their mettle by extensively writing on the topic  "If You Were Given The Opportunity And Authority, What Laws Would You Put In Place To help Preserve Nigeria's Culture And Tourism"
Here are the winners from the second edition of the Flowing Feathers Tourism Children Writing Competition
Senior Category
1st- Position: Edward Chukwuemeka Chidera
2nd Position:  Micheal Nath Solace Chinwenma
3rd Position: Chiagozie Flora Obi-Osegbo
Junior Category
1st Position:  Chinweizu Okemdi Eze
2nd Position: Ijara Sogidechukwu
3rd Position: Nwabueze Victor Somtochukwu
And their prizes include:
Junior Category:
1st Position   Tablet and Bicycle
2nd Position  Smart Phone
3rd Position   Smart Phone
Consolation Prizes:
4th – 5th Position 20,000 Naira Shopping Voucher
6th – 13th Position #10,000 Naira Shopping Voucher.
A big congratulations to all the participants and winners as we celebrate an outstanding woman of substance- Chioma Obi,  Founder and CEO of Jands Travel Network and the founder Flowing Feathers Tourism Writing Competition who made this dream become a reality with the support of great friends, family, partners and supporters. A great light has been lit in the hearts of these children and it can only spread the yield greater benefits.
Shared and reported by Ifeoma Ajumobi AKA Ify Melody