IIWG 3: Implementing Violence Against Person's Prohibition Act (VAPP) across Ala Igbo States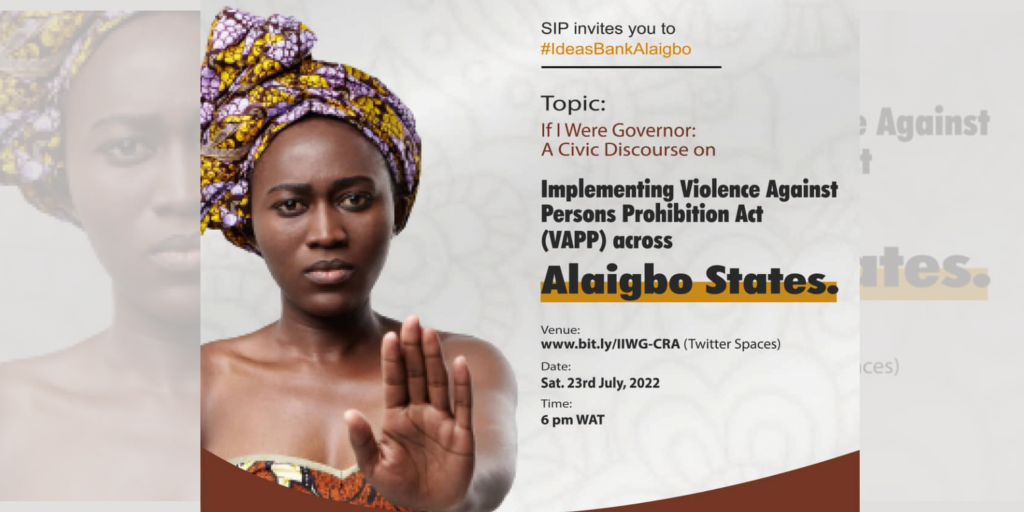 You are invited to our 3rd edition of If I Were Governor Series
Programme Title: Ideas Bank Alaigbo
Topic: Implementing Violence Against Person's Prohibition Act (VAPP) across Ala Igbo States.
Facilitator: Society of Igbo Professionals (SIP)
Platform: SIP Twitter Spaces
Date: Saturday 23rd July 2022
Time: 6pm WAT
About Topic:
Physical and sexual assault is a prevalent socio-cultural phenomenon that affects the progress and development of society. Nigeria is home to many harmful cultural practices, most especially to girls and women, and this has birthed a culture of silence that has desensitised the society to the ills of these harmful cultures.
In 2015, the Violence Against Person's Prohibition Act (VAPP) of  Nigeria was passed in the national assembly and assented to by the president. The VAPP law covers various forms of violence but pays particular attention to  gender and sexual-based violence. It also includes provisions for the financial compensation of victims; categorizes emotional, verbal and psychological abuse as offences; redefines rape; and is the first Nigerian law to recognize that rape can involve male victims.
The VAPP law also provides a legal framework that protects the victims of harmful cultural practices such as Female Genital Mutilation (FGM) and circumcision, denial of inheritance and succession rights, and forced marriage.
According to Partners West Africa Nigera VAPP tracker, the VAPP law which is expected to be domesticated in states, has been passed in 28 states, with 20 assented to.
In ala Igbo, the VAPP law  has been domesticated in the following ala Igbo states:
(1) Abia: Passed on 3rd December 2019 and became state law  on 1st October 2020.
(2) Anambra: Passed in 2017 and became state law in 2017.
(3) Delta: Passed on 28th July 2020 and became state on 7th October 2020.
(4) Ebonyi: Passed on  1st May 2018 and became state law in May 2018.
(5) Enugu: Passed on 4th April 2019 and became state law in April 2019.
(6) Imo: Passed on 27th July 2021 and became state law on 15th December 2021.
(7) Rivers: Passed on January 2020 and awaiting assent by the governor.
If I Were Governor: Implementing Violence Against Person's Prohibition Act (VAPP) across Ala Igbo States, will focus on:
highlighting the provisions of the VAPP act;
assessing  steps taken by state governors in implementing VAPP act;
challenges experienced by domestic and gender based violence focused organisations and advocate
Speaker: Onyekachukwu Asadu
Attendees profile: Domestic and Gender Based Violence Focused Networks and Advocates/Activists, SIP Members, Civil Society Organisations, CSOs, Media, Ndi Igbo, and Concerned Citizens of Nigeria.
To participate in the online event on Twitter, click on the link below to save event notification on your calendar.
http://www.bit.ly/IIWG-VAPP