Igbo Values: A Suggested Readings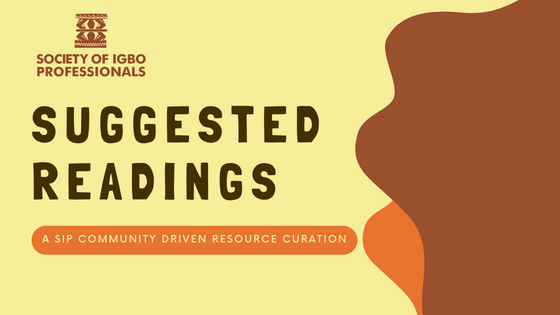 Igbo Values: A suggested readings is a compilation of resource links and content shared by the SIP community. In this edition, we explore Igbo cultural values and its place in contemporary times.
This open access paper re-examines the extent to which the Igbo communal values are in attunement with the Kantian concept of human dignity. This paper posits that the Igbo communal system has the best indigenous ethical and environmental structure for the restoration of man's dignity as posited by Kant and, has, for ages before Kant, been at the forefront of this restoration, ethicalization and construction of values for human dignity.
Igbo Cultural Values and the European Influence: A Way to Redirect the Present Igbo Youths (African Journals Online)
 By Gladys Ifeoma Udechukwu
This paper examines  some of the Igbo cultural values that have been influenced by the Europeans and their effects on human development in ala Igbo. It also sheds light on Igbo  cultural heritage worth  preserving and protecting.
Igbo Value and Care for Life (CORE)
By Charles U. Anuolam
This paper explores the Igbo  concept and value of life in the light of the Christian doctrine on life's value. It is the conviction of the author that it would give the reader an idea of Igbo mentality towards life. 'Human life is sacred and those who violate it not only offend the divine majesty and degrade themselves and humanity, they also sap the vitality of the state of which they are members'.
Igbo Cultural Values and the Effect of Globalization: A Critical Analysis (ARCN Journals)
By Joannes Asikaogu
With the rise of global culture, western culture, western norms, and practices are gradually being
transported across the globe as the standard and acceptable way of behaviour. Igbo is the hardest hit in
this regard, the once rich, cherished and dynamic African culture has been diluted beyond repair, if not
totally eclipsed. This paper assesses the impact of globalisation on Igbo cultural values and the impact of globalisation on it.
Values of Greetings in Igbo Traditional Culture and the Contemporary Society (ASSRJournal)
By  Nduka Udeagha
Greetings are one of the cherished core values that facilitate interpersonal relationships and cooperative reality in Igbo traditional culture. It appears that in the contemporary society, especially as a result of influence of foreign languages and culture, the value attached to greetings and respect for others are grossly waning, and more among the younger generation. This paper attempts to underscore the value of greetings by highlighting its essential elements in Igbo traditional culture. It surmises that greeting in Igbo traditional culture is key relational oil that lubricates and maintains collective survival of the Igbo race.
Compiled by SIP Community Manager.