Made in Aba – Social/Private/Public Partnership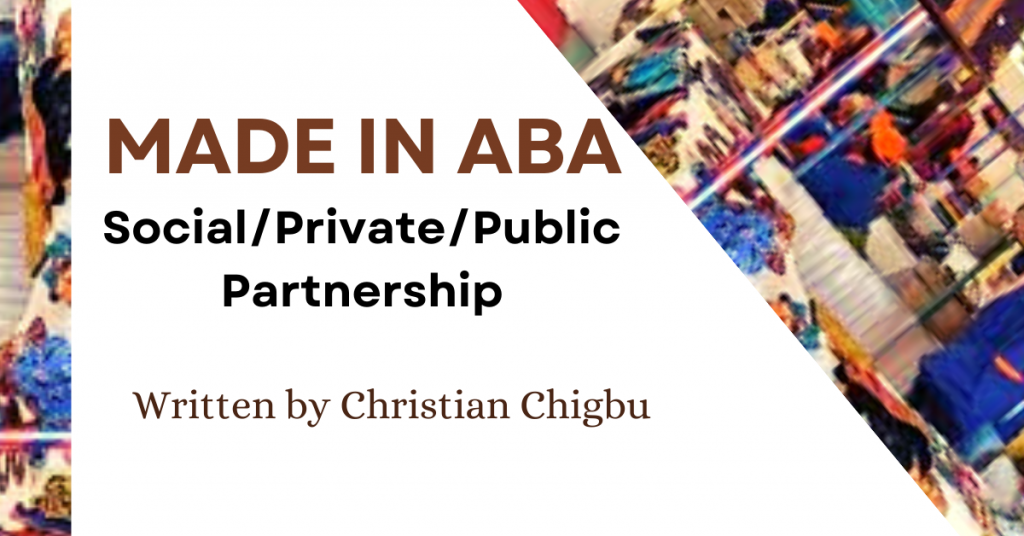 I wonder why the 'Made in Aba' dream has not taken off, many years after we all thought it was going to happen. Instead, over time, Aba has turned from the 'Japan of Africa' to become a hub of counterfeit products. The people have become greedy going after ill-gotten wealth. At some point, the government appeared to have stopped building infrastructures. Aba was also affected by the inconsistent government economic policies which killed a lot of businesses. There was a time the city was almost over-run by criminals, and the government had to deploy the military to rescue the city. Unfortunately, many of the residents moved out of the town, and so did businesses too. Recovering from these events will be long and hard.
I commend those who, up to this moment, have kept faith in the 'Made in Aba' dream. A few days ago, during the swearing-in ceremony of Prof. Soludo as governor of Anambra state, someone wrote, 'in spite of the distractions, a renaissance of Ndi Igbo has silently began'. This made me recall what the current government of Abia state has been doing with the footwear and garment industry in Aba and their approach to development of infrastructure in the city. For the first time in many years, I suddenly feel a sense of optimism that it can be done.
However, I do not want to be carried away with the events of the moment because I have seen hopes completely dashed when a new government administration comes to power and for whatever reason, they'd decide to reverse all the gains their predecessors have made in the past.
As an advocate of sustainable development, I share the vision of the Society of Igbo Professionals (SIP) in lending support to any cause that promotes the development of Ala Igbo. In that sense, 'Made in Aba' is a movement I gladly support.
By the way, I have a confession. I grew up in Aba, so I'm emotionally attached to the city. Beyond that, the thoughts I express here lies in the fact that 'Made in Aba' does not only refer to commodities — such as footwears, garments, and handbags — that are made in Aba. In my opinion, that is just a tip of the iceberg. You remember the lesson in economics about the factors of production namely: land, labour, entrepreneur, and capital. If you have any of the factors of production in abundance, you are said to have a comparative advantage.
For this reason, after a careful observation, I realized that Aba has an abundant supply of entrepreneurs. In other words, entrepreneurs are made in Aba. There may be several reasons for this and one that easily comes to mind is the traditional apprenticeship practise also known as 'Igba boi' in Ala Igbo. Development is a complex process that involves the collaboration of multiple institutions. It is difficult for any single entity to successfully develop a people; this is why it appears that the government alone is not doing enough.
However, for Aba to truly earn the status of a business hub, it must make the area in which it has a comparative advantage operationally scalable, and it requires a lot of resources. The solution lies within. While some other parts of the country rely on government resources to develop, Aba on the other hand has developed through the resources contributed by government, businesses, social organizations, and individuals.
The social/private/public partnership is a model that involves collaboration among different institutions with specific expertise in the development process. Creating a business hub requires the combination of different resources like power, skills, legislation, transportation etc., and the journey has just begun as expressed in this press statement by Prof. Bart Nnaji, "Aba people have suffered much because of lack of regular power supply. So, our core mission is to partner with all relevant stakeholders to end this development in all our areas of coverage, which are the 9 local councils that make up Abia south for now. In the next four to six months, Geometric will come fully on stream and these areas of coverage will begin to enjoy uninterrupted power supply. But as time goes on, we hope to expand our operations to cover other areas of the state and connect to the national grid".
I hope to see organisations like SIP provide a platform to engage the stakeholders in strategic conversations, collaborations, and actions that would lead to more world class entrepreneurs being 'Made in Aba'.
Author: Christian Chigbu
Copywriter || Mobile App Developer | SIP Volunteer
This is an Op-ed article. The opinions expressed in this article are the author's own. Society of Igbo Professionals (SIP) is not responsible or liable for any content, accuracy or quality within the article or for any damage or loss to be caused by and in connection to it.