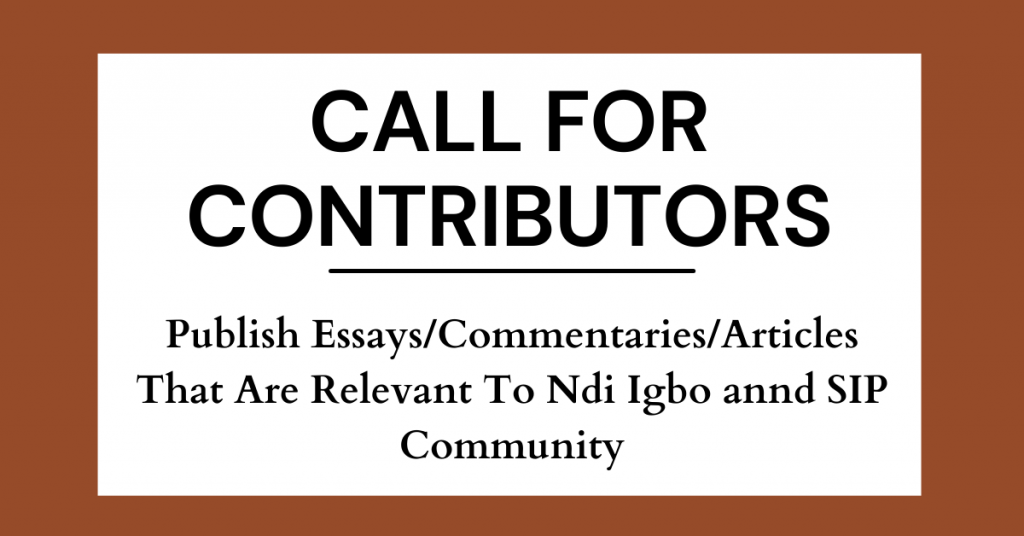 HELP US PUBLISH ESSAYS/COMMENTARIES/ARTICLES THAT ARE RELEVANT TO NDI IGBO AND SIP COMMUNITY
Society of Igbo Professionals welcomes contributions from SIP members and guests for the SIP blog. 
We're excited by compositions that celebrate, review, analyse, motivate, and propose better or alternative solutions to challenges in Ala Igbo. Contributions must be timely, original, relevant, newsworthy, educational, entertaining, enlightening, and inspirational. 
We welcome contributions on the following subject areas:
Arts and Culture (Arts, Film and Media, History, Language and Literature, Lifestyle)

Education and Society (Community, Education, Self-Development, Social Sciences, Gender, Youth)

Science and Technology (Agriculture, Manufacturing/Technology, Health, Sustainability, and the Environment)

Business and Economics (Development, Economy, Start Up and Entrepreneurship)  

Politics and Governance (Government, Policies, Security)
Min. number of words: 1000 | Max. number of words: 1500
We are also interested in receiving Fiction and Non-Fiction Reading Lists/Book Recommendations from avid readers.
Please keep in mind that we are a lean team. If you don't hear from us within two weeks, feel free to send a follow-up query. If you still don't hear from us, it's safe to assume your submission isn't a fit.
Please forward your essays/commentaries/articles or queries to admin@societyofigboprofessionals.org 
Include your name and any other personal information which you do not mind being made public.
We look forward to hearing from you!